Clearblue has always strived to provide women with the best science available, in a way that is accessible to all. Whether you're trying to conceive or you think you may be pregnant, we give answers that are accurate, quick and clear. Ever since we developed the world's first 30-minute home pregnancy test in 1985, we have continued our mission to give women, extremely reliable, quick and clear answers to the questions "am I pregnant?" or "when am I most fertile?" in the privacy of their own home. Our product range includes:
After 35 years of research and innovation, our work is dedicated to one goal:
Transform how women manage their reproductive health.
---
The World's No 1 selling brand1
Clearblue is committed to helping you manage your reproductive health. For the past 35 years, we've involved 23,000 volunteers in more than 140 clinical research trials to help you get results you can trust. Each product is developed with the help and feedback of around 5,000 women, and we quality check approximately 30,000 tests before we launch any product into the market.
Talking with thousands of women to understand their needs enables us to create our most innovative pregnancy and ovulation tests, as well as fertility and contraception monitors, to help women take control of their reproductive health.
Clearblue tests help you find the answers you need by giving easy to read, clear results with 99% accuracy. 
1. The World's No: 1 selling brand in home pregnancy fertility tests. Based on international sales compiled using independent market research data (data on file).
---
Who is Clearblue?
We have 35 years of expertise in developing and launching innovative pregnancy and fertility tests. Clearblue hasn't just created new pregnancy and ovulation test products and new technologies, but we have also helped give women confidence and reassurance for the past three decades. This is why over 20 million women choose to use Clearblue products every year, and over 30 million visit our website looking for the information they need.
We work with a range of independent, leading Healthcare Professionals to ensure we understand of all our subject areas in depth, and are up-to-date with the latest scientific & clinical research and trends. Clearblue works with experts who critique our research & development and marketing activity so that we can deliver the best for women. Fertility, pregnancy, contraception, and sexual health experts with a broad range of experience make up our Advisory Board so we can be confident in the high quality and accuracy of advice and input we get when developing our products and content.
---
Who makes Clearblue's products?
Clearblue is a brand belonging to Swiss Precision Diagnostics GmbH (SPD), a world leader in research, design, production, and supply of advanced consumer diagnostic products. SPD is a leading supplier of home pregnancy tests, ovulation tests, and fertility monitors. Through a continuous flow of new and innovative developments, SPD delivers products that meet the needs of women globally.
SPD was formed in 2007 as a joint venture between Procter & Gamble and Alere (now a part of the Abbott group, since October 2017), to bring the very best of diagnostic innovation and professional technology into women's homes around the globe to help them better manage their reproductive health. SPD is headquartered in Geneva, Switzerland, and its cutting-edge Innovation Centre is located in Bedford, UK.
---
Our history: 35 years of firsts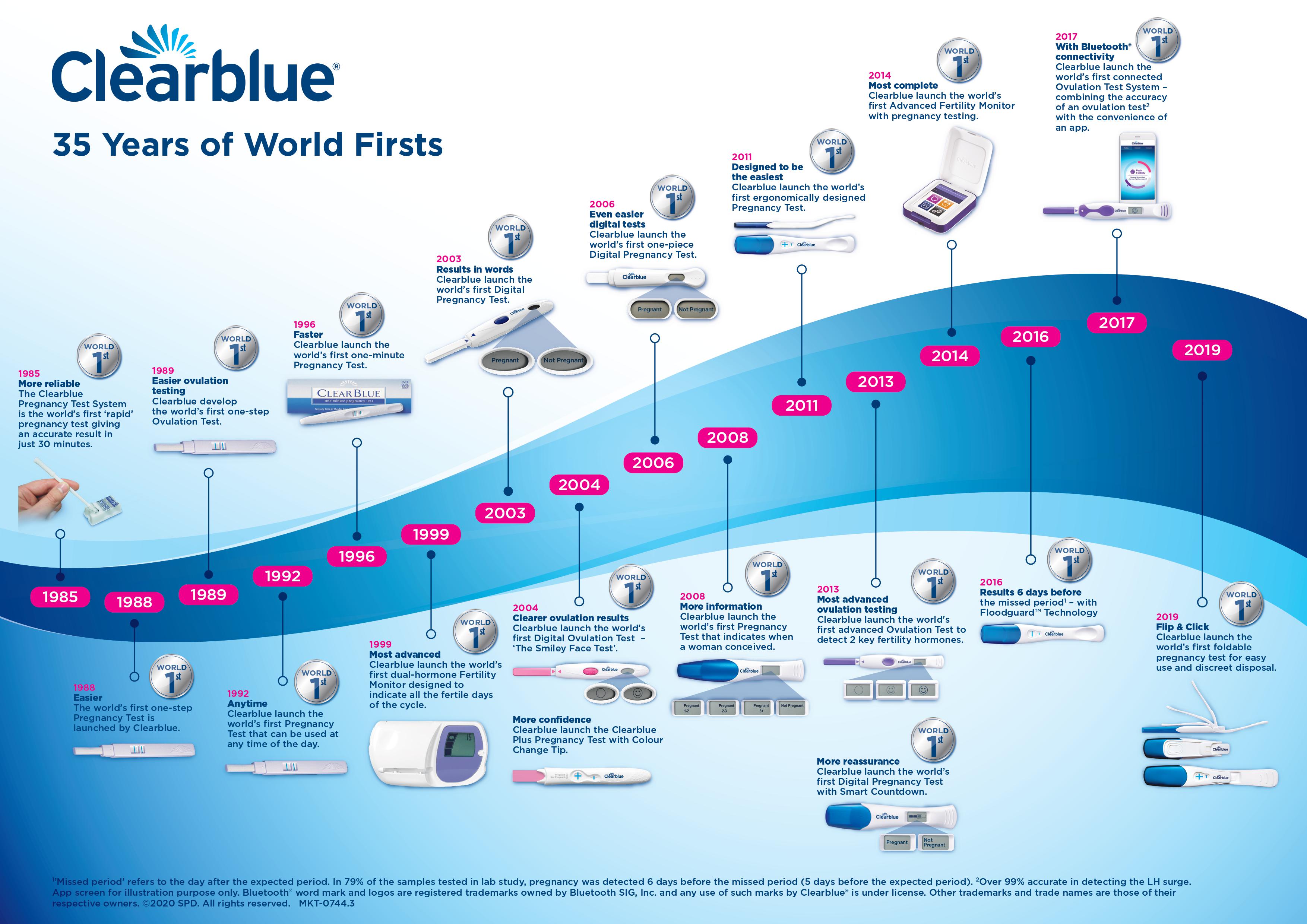 ---
Learn more about us